< Back To Browse Upcoming Journeys
Peru | Machu Picchu and the Sacred Valley – A Journey to the Andes
Journey Dates: Travel November 4-16, 2018
Plus 4 months of coaching, September-December 2018
Trip Availability: OPEN

Tour Sponsor: Becker & Company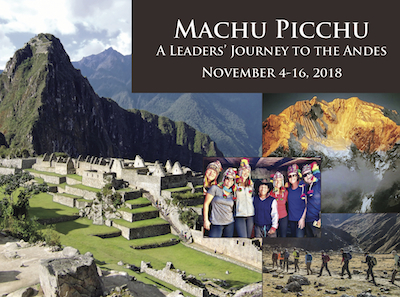 Join a select group of business and community leaders on an extraordinary adventure to one of the wonders of the ancient world, Machu Picchu, and the Sacred Valley in Peru. Embark on a transformational pilgrimage – a true trip of a lifetime!
Trek an ancient hidden Inca trail and while enjoying the luxury of 4-5 star hotels, private lodges, exclusive chefs and world-class care. Deeply immerse yourself in the culture, history, and art – textiles, architecture and precious metals. Discover a new world while you explore the next steps in your life and work. Included are coaching, writing sessions and ceremonies with local shamans to help you make big strides on your personal or professional journey!
SAVE THE DATE! Travel November 4 – 16, 2018
*Coaching and group calls September – December. VIP coaching, in-depth ceremonies and extended travel itineraries available
By Invitation Only and limited to 10 travelers. Apply today! ebecker@beckercompany.com or 510-388-6169
Program Leader: Elizabeth Becker of Becker & Company Consulting supports leaders reaching their full potential. She is a former executive with Fortune 50 companies, emerging technology brands and non-profits, including Salesforce, Lucent (AlcatelLucent), Marriott, Women Presidents' Organization and the Professional BusinessWomen of California. Elizabeth is currently fulfilling her calling to interfaith ministry with a specialty in the transformational power of transitions. Her articles and writings have appeared in Chief Learning Officer, Leadership Excellence and Knowing Pains: Women on Love, Sex and Work in our 40s. She lives with her family in the San Francisco Bay Area where she writes poetry, hikes, spins and practices yoga in between work, family life and planning her next adventure.
Tour Price
Leaders program includes coaching over 4 months and travel Nov 4-16. Details by request.
Trip Itinerary
View Trip Itinerary Here