AltruVistas is beyond excited to be offering two tours to Bhutan in May/June 2018! Culture and World Heritage Through a Photographer's Lens will be led by Joe Guerriero, who took the beautiful photos in this post. A separate tour, the AltruVistas Cultural Journey to Bhutan, will be led by AltruVistas founder Malia Everette. Read on to learn about how Bhutan's commitment to well-being and progress in the social, environmental, and spiritual realms makes it such a special country. The tour links can be found at the bottom of the post. Tashidelek!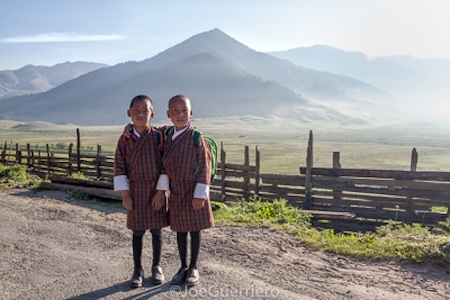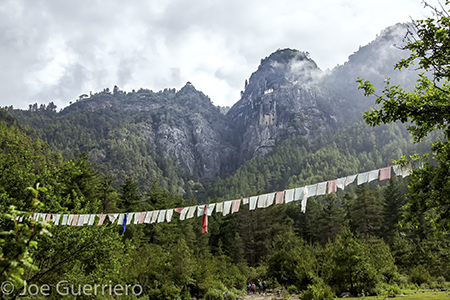 Bhutan's Gross National Happiness Index
The idea of the GNH was created by His Majesty the Fourth King Jigme Singye Wangchuck in the 1970s, and formally included in the 2008 Constitution of Bhutan. As opposed to standards which measure a country's wealth and progress by economics only, such as GDP, the GNH looks at four areas: good governance, sustainable socioeconomic development, preservation and promotion of culture, and environmental conservation. The GNH becomes the basis for legislative development, and creates a yardstick against which the country measures its progress in addressing and eradicating social problems.
In 2015, a study with a sample size of just under 9000 found 91.2% of Bhutanese citizens self-reporting as happy. This number represented a 1.8% increase since 2010.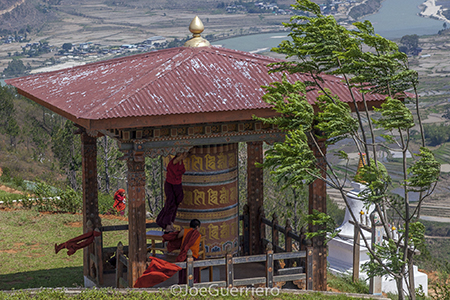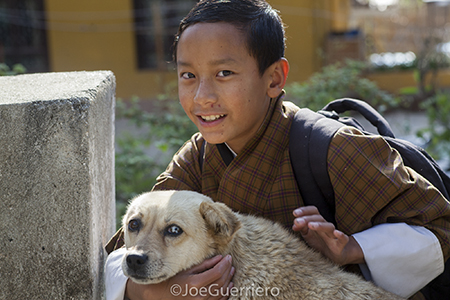 The Forefront of Sustainability
The Bhutanese government has created a 17-area map towards sustainability goals. Some are in categories you might expect—such as Responsible Production and Consumption, Climate Action and Clean Energy. Others are more human-focused, such as Zero Hunger, No Poverty, Gender Equality, and Peace and Justice. A third subset reminds us we are not on the earth alone, and are here with Life Below Water and Life on Land. 2030 is set as a target date for a number of goals, including poverty eradication (currently defined as anyone living on less than $1.25/day), the end of malnutrition, and the doubling of small-scale agriculture production by focusing on equal access to land, knowledge, financial services and markets. Long-term goals include universal health care, disease eradication, and continual improved access to education.
Bhutan is currently 72% forest, 60% of which is permanently protected sanctuaries and parkland. In 2009, the government declared that the country will always be carbon-neutral. Currently, Bhutan is the world's first Carbon Negative Country: its vast forests are absorbing three times more CO2 than is emitted by the entire country. A program called Green Bhutan is actively planting new trees. Hydroelectricity from the country's many rivers provides a strong, carbon-free power source. Green energy job development is a focus.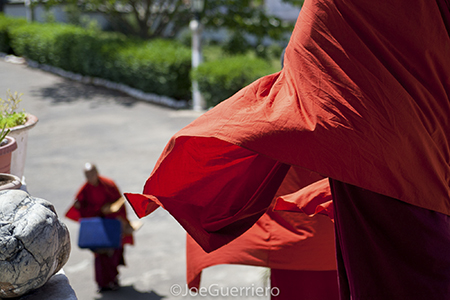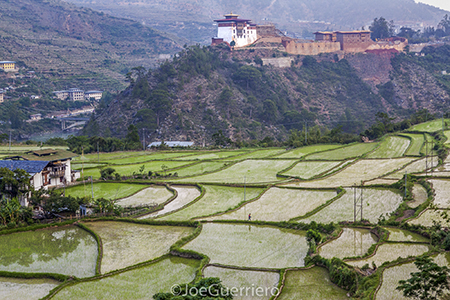 A Holistic Worldview
As a Buddhist country, Bhutan's GNH is rooted in the notion that suffering can be alleviated. If you visit Bhutan (a.k.a. The Land of the Thunder Dragon), you'll find many meditation temples, hot springs for wellness, and the practice of Sowa Rigpa, a traditional Tibetan medicine system which uses herbs and minerals, physical therapies, and Tibetan acupuncture to achieve balance in the body.
The Library of Mind, Body and Sound of Bhutan is under construction and slated for completion in June 2018. The project is part of the Bhutanese's government's commitment to the GNH. Floor 1 of the library will be devoted to the body, and all materials will center on the topic of physical well-being. Floor 2 focuses on sound—not only music and vocalizations but also silence. Floors 3 and 4 will focus on the mind, spanning meditation, imagination, and visualization. Unlike traditional libraries, all materials here are to promote wellbeing, as rooted in the interrelationship of Mind, Body, and Sound.
♦♦♦
"No visitors to Bhutan return unhappy," says Fin Norbu of Bridge to Bhutan, AltruVistas' travel partner. "They are rather awakened & see the world in a totally different way. Bhutan provides both an inward and outward journey. Thank you."
Come to Bhutan with Malia and AltruVistas for the Cultural tour and visit cliffside monasteries, meet traditional artisans, hear panelists talk about the GNH, and more! Or travel with Joe Guerriero Photo/Road Warrior Productions, the eye behind these photographs, for photo instruction, monastery visits, and hikes! Tour links below.