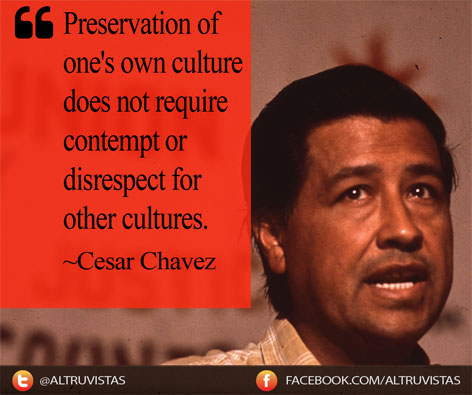 "Shy," "self-effacing" and "introspective." These are the words LIFE magazine used to describe Cesar Chavez back in 1966, just 4 years after he co-founded the National Farm Workers Association with Dolores Huerta, later to become the United Farm Workers of America, or UFW, the prominent labor union for farmworkers in the United States.
Somehow, however reserved he was in his approach, Chavez managed to galvanize thousands of farm workers and draw much needed attention to their abysmal working conditions and mistreatment.
Mexican-American Cesar Chavez, born César Estrada Chávez, was a farm worker, labor leader and civil rights activist. If he was alive today, he would be 88 years old.
The History Channel recalls:
Stressing nonviolent methods Chavez drew attention for his causes via boycotts, marches and hunger strikes. Despite conflicts with the Teamsters union and legal barriers, he was able to secure raises and improve conditions for farm workers in California, Texas, Arizona and Florida.
Through passion, perseverance, and his unwavering belief in social justice, Cesar Chavez managed to change the world and today we celebrate his life, by sharing a few of his memorable quotes:
"Preservation of one's own culture does not require contempt or disrespect for other cultures."

"Real education should consist of drawing the goodness and the best out of our own students. What better books can there be than the book of humanity?"

"You are never strong enough that you don't need help."

"Once social change begins, it cannot be reversed. You cannot un-educate the person who has learned to read. You cannot humiliate the person who feels pride. You cannot oppress the people who are not afraid anymore."

"We cannot seek achievement for ourselves and forget about progress and prosperity for our community… Our ambitions must be broad enough to include the aspirations and needs of others, for their sakes and for our own."
Happy Birthday Cesar Chavez!